I have 3 things I wanted to share with you today.  2 are related to decorating, the 3rd one – a bit more personal.
1.  Today starts the week long Handmade Holidays series with StyrofoamTM Brand Foam over at Under The Table and Dreaming.   25 bloggers are participating and have made holiday decorations using all sorts of shapes and sizes of Styrofoam Brand Foam.  Stephanie Lynn will be posting 5 a day so you are sure to get inspired.  At the end of the week there will be a link party for you to link up your creations made with Styrofoam Brand Foam.  My project will be posted later today.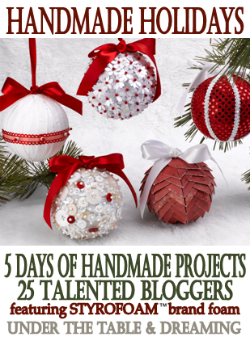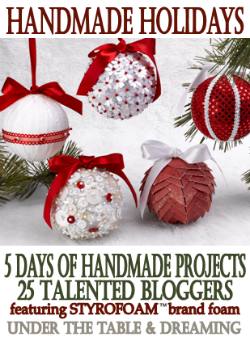 2.  Next Monday I am going to share with you how I make my small dining room table fit 12 people.  I have been planning how to decorate it for Thanksgiving and made place mats from some orange burlap that I got at my favorite $dollar$ a yard place.  You can find out how I made them on my latest post over at Momtastic.  It is no sew and EASY – which is perfect when you want to have something handmade on your table that doesn't take long to make – your kids could even help make them they are so easy.
3. This is not such a little bit – more like a very BIG bit for my family and I.  On Friday – my husband I will be driving to Washington DC – a three hour trip to pick up our older daughter from the airport there. She has not been home in two years as she has been serving in the Peace Corps in Africa.  She will only be home for 6 weeks so she can go on medical school interviews and then she has to return  to Africa until the Spring when her service will be over.
She loves animals and when she graduated from college she brought home Trax – the cat who as you know shows up in my posts quite frequently.
Well, true to her personality – she is bringing a dog home with her.  An African dog she got when it fit into the palm of her hand.
Kindii is coming to live with Mom and Dad until my daughter's service with the PC ends in the Spring.  Life in my house is going to get interesting.  I have a lot to get done this week before they get home.  Right now I am just hoping and praying that they have no trouble flying and we see both of their happy smiling faces on Friday.  I will keep you posted.