Photo: Madigan Made
Last July I took part in I <3 Thrifting Day. It was a day where thrifters all over the country got together in their city and towns to enjoy a day of thrifting and meeting new people with similar passions. It was all spearheaded by Rashon Carraway – aka. Mr. Goodwill Hunting.
Here are a few photos that Shannon from MadiganMade took of our Philly group.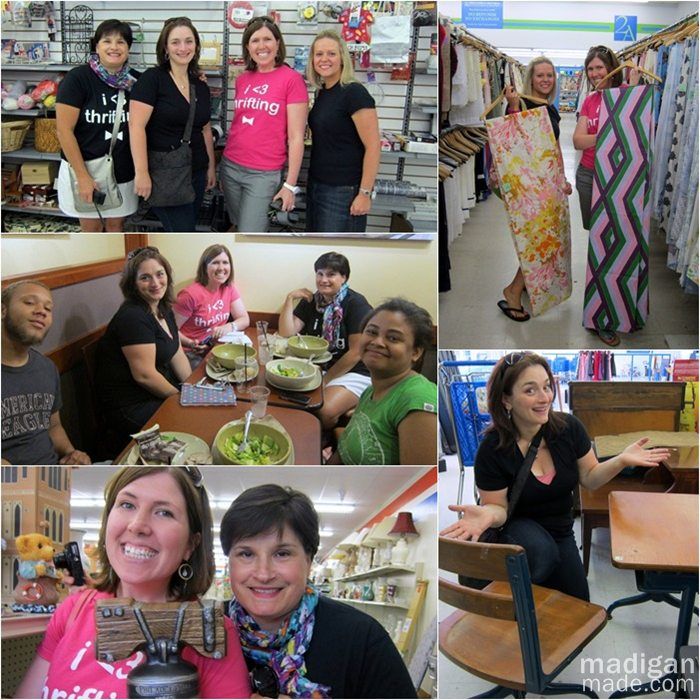 Photo: Madigan Made
We had a fun day and found lots of treasures. You may remember 2 of the projects I made using the items I bought that day.
I found this mirror for $12.
and transformed it with White Paint to go in my family room.
I found these chandelier shades for $1 a piece.
and made DIY Changeable Chandelier Covers for them using scrapbook paper.
You can read my full recap of Philly I <3 Thrifting 2011 here.
This year, I <3 Thrifting Day is Saturday, July 7th and Shannon and I are organizing a fun-filled day of thrifting to celebrate. We'd love to have any local readers or bloggers join us!
Last year we shopped in and around the North Wales/Montgomeryville area. This year, we decided to keep things simple and follow a similar route in the Bucks-Montco area and hit our favorite thrifty stores!
The schedule Saturday July 7: Starting at 9:00 AM
We will start at the 2nd Avenue Value Store in North Wales.
1200 Welsh Road (Rt. 63) • North Wales, PA
Then, we will head over to Impact Thrift Store in Montgomeryville.
979 Bethlehem Pike • Montgomeryville, PA
After that stop, anyone interested in dining out for lunch can join us at the Village Tavern (very close to Impact).
511 Stump Road • North Wales, PA
And then if you still have the time and want to keep shopping after eating, we can head up to ReStore in Chalfont which is about a 10 minute drive from the restaurant.
31 Oak Avenue • Chalfont, PA
If you would like join us, just leave me a comment or send Shannon or I an email. My e-mail: [email protected]
The biggest group from around the country that day will be featured on Mr, Goodwill Hunting's blog. So don't be shy – come and join us for a fun day of thrifting and getting to meet and hang out with others who love the thrill of the hunt for thrifty treasures.